Application: television subtitling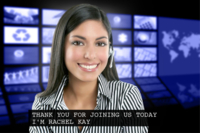 While fully automatic processing generally does not deliver high enough quality subtitles, Vocapia's speaker diarization, speech-to-text transcription and speech-text alignment technologies significantly reduce the effort entailed when closely integrated in the subtitle creation process.
Generating subtitles is a time consuming, labor intensive process. Originally targeting the Deaf and Hearing Impaired community, market research shows that about 30% of the population use subtitles when available. Legislation in many countries require 95% of all programs to be subtitled, a target not achieved due to the high production cost.
Supported languages: Arabic, Czech, Dutch, English (US, UK), Finnish, French, German, Greek, Hebrew, Hindi, Hungarian, Italian, Latvian, Lithuanian, Mandarin, Persian, Polish, Portuguese, Romanian, Russian, Spanish, Swahili, Swedish, Turkish, Urdu